Optimized & Industry-ready Solutions
Verdant Power's Tidal Turbine System is a turnkey water-to-wire system utilizing horizontal-axis turbines to convert the kinetic energy of fast-moving (> 1.0 m/s) water currents into clean renewable electricity.  Multiple turbines are deployed on mounts in a field array fully underwater and not visible from the surface.
Optimized & Industry-ready Solutions
The central component of the Verdant Power Tidal Turbine System is a three-bladed horizontal-axis turbine.  The turbine is equipped with a composite rotor (1) with three blades that rotate at a slow and regular rate, well below normal water vessel propeller speeds and conventional hydropower turbine blade speeds.
The drive train and generator are enclosed within the nacelle, (2) including a special integrated long-life planetary gear box and bearing housing with mechanical shaft seals for the main shaft. The sealed nacelle is supported on a pylon (3) that attaches to a seafloor mount(4), which can vary depending on site and project specifications.
During tidal operation the turbine self aligns with the water flow to generate on the flood tide when water velocity exceeds 1 m/s; and then stops as slack tide occurs; changing direction (by 170 degrees termed yaw) to generate in the ebb direction.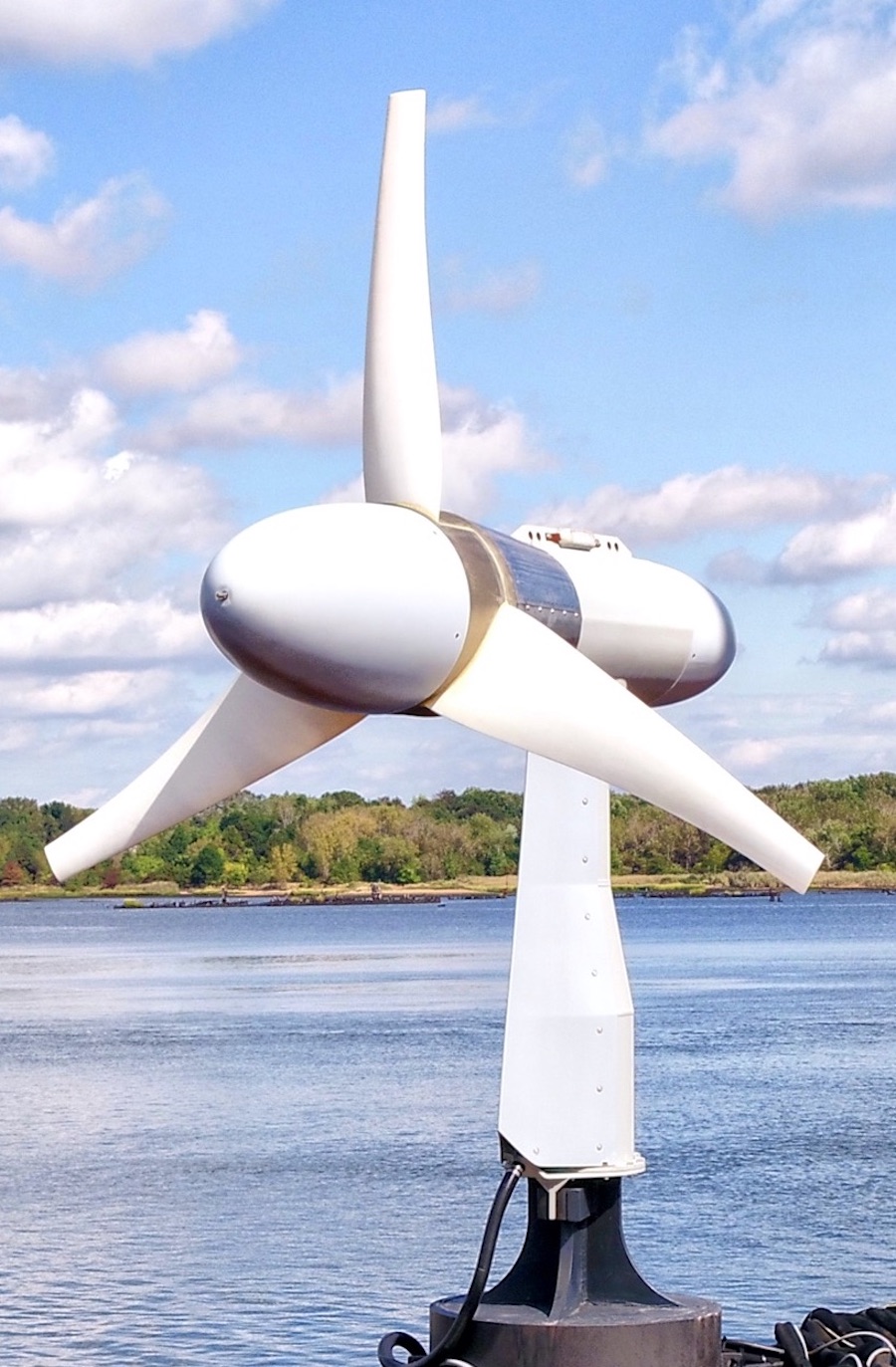 The turbines operate continually, predictably and automatically and are remotely monitored by a proprietary control system.
A key advantage of the Verdant Power turbine is its simplicity — the unit is 'ready for operation' almost as soon as it is deployed.
The turbines rotate to generate energy as long as there is adequate water speed (> 1.0 m/s).
Power performance has been certified by a third-party international agency
Verdant Power's TriFrame™
Our TriFrame™ is a steel, triangular frame mount that supports the 5 Meter Tidal Turbine System. An array of multiple turbines on TriFrames is arranged at a project site based on water velocity, hydrodynamics, and accessibility.
Retrieve and Replace Maintenance
A key advantage of the TriFrame™ is access to multiple turbines through one on-water operation with a Retrieve and Replace maintenance strategy.
Retrieved turbines are refurbished at a local land-based facility for subsequent reuse.
Turbines can be retrieved with immediate replacement with ready spares to minimize outage time and high costs of on-water work.
This maintenance strategy allows for regularly scheduled on-water operations and maintenance work, lowering the levelized cost of energy (LCOE) and reducing risks for unplanned outages
 Interested in learning more about licensing opportunities?